Who is eligible for WIC?
Women who are pregnant, breastfeeding, or who recently had a baby. If you are breastfeeding, you can stay on WIC for one year after your baby is born. If you are not breastfeeding, you can stay on WIC for six months.

Infants from birth to 1 year of age.

Children from 1 year of age to their 5th birthday.

Clients must live in Michigan and meet income guidelines.
Use the WIC Connect Mobile App to see if you are eligible.
What Paperwork Do I Need to Bring to My First Appointment?
You need to bring the following for you and/or your child:
Proof of identity
Proof of address
Proof of income (Medicaid card, pay stub, W-2)
What Happens at My First WIC Appointment?
If eligible, you and/or your child will:
Be measured for weight, height and hemoglobin.
Talk to nutrition staff about healthy eating for you and your family.
Receive an EBT card to purchase WIC approved foods.
Make an in-person or online appointment every three months to continue receiving WIC services.
What Foods Might I Get?
Food packages are customized for each participant but may include: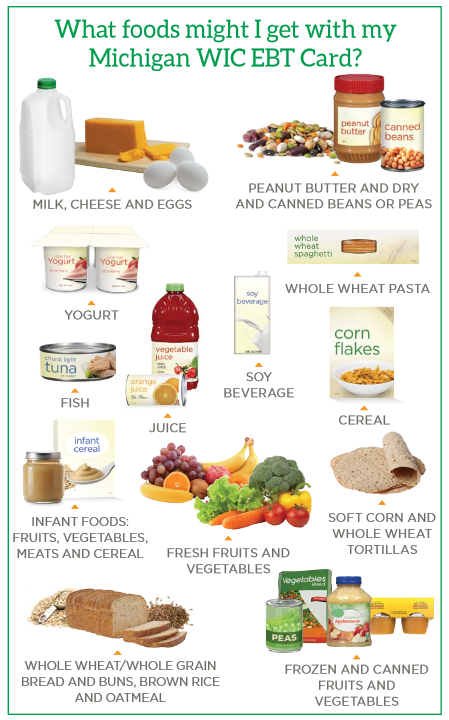 The complete guide to WIC approved foods can be found here.
More information is available at Welcome to WIC or by contacting Your Local Health Department.
Make an appointment through WIC Connect Mobile App or call Your Local Health Department.