The Michigan Department of Health and Human Services (MDHHS) recommends every household use a certified lead filter to reduce lead from their drinking water, especially households with:
A child, or a child frequently visits the home
A pregnant person
An individual with high blood pressure,
People residing in houses built before 1987.
MDHHS also recommends making baby formula or cooking with filtered water.
What to know when buying a filter:
Look for filters that are tested and certified to NSF/ANSI Standard 53 for lead reduction and NSF/ANSI Standard 42 for particulate reduction (Class I).
For filters to work properly, follow the manufacturer's instructions.
MDHHS recommends that filter cartridges are replaced every six months
Free Filter distribution is available Monday - Friday at the following locations:
BHSJ CHA, 1110 Hill Street, Three Rivers, 8 a.m. until 4 p.m.
Department of Public Services, 1015 S. Lincoln Ave., Three Rivers 8 a.m. - 3:30 p.m.
To receive a free filter you must be a resident of the City, on the City's water system, and meet one of the following eligibility criteria:
Have a child living in the home, who is under the age of 18
Have a child frequently visiting your home, who is under the age of 18
Have a pregnant person living in the home
And also meet one of the following eligibility criteria:
A recipient of Medicaid or WIC services
You attest that you cannot afford to purchase a filter at a store
Bring a driver's license or photo ID to confirm that you live in the city.
If you have no license or photo ID, please bring a copy of your city water bill.
Filters will be distributed 1 per household. Houses that have multiple units will be provided 1 filter per apartment unit.
You will receive either a PUR filter that attaches to the end of your standard kitchen faucet, or if you have a spray nozzle at the end of your kitchen faucet, you will receive a BRITA filtering water pitcher.
Replacement filters:
After the initial filter distribution, residents who receive a filter from the Department of Public Services or the Health Agency will need a new cartridge for the filter in six months. After receiving the first replacement cartridge, it is estimated that residents will need replacement cartridges, roughly every 4 months afterward.
How Lead Gets into Drinking Water?
How can I protect myself from lead in water?
Use a filter for your drinking water. Look for a point-of-use filter labeled NSF/ANSI Standard 53 for lead reduction and 42 for particulate reduction (Class 1) on the package. Follow the manufacturer's installation and maintenance instructions.
Get your water moving. Do any of these things to flush your pipes:

Run your faucets
Take a shower
Run a load of laundry
Wash dishes

Clean you faucet's aerator. Pieces of lead can get stuck in the aerator.
Consider replacing older plumbing, pipes, or faucets. Replace galvanized pipes, pipes with lead solder, and faucets made before 2014.
The information below can assist you to identify the type of water service line you have coming to your home. If you have further questions you can contact City of Three Rivers Department of Public Services at 269-273-1845.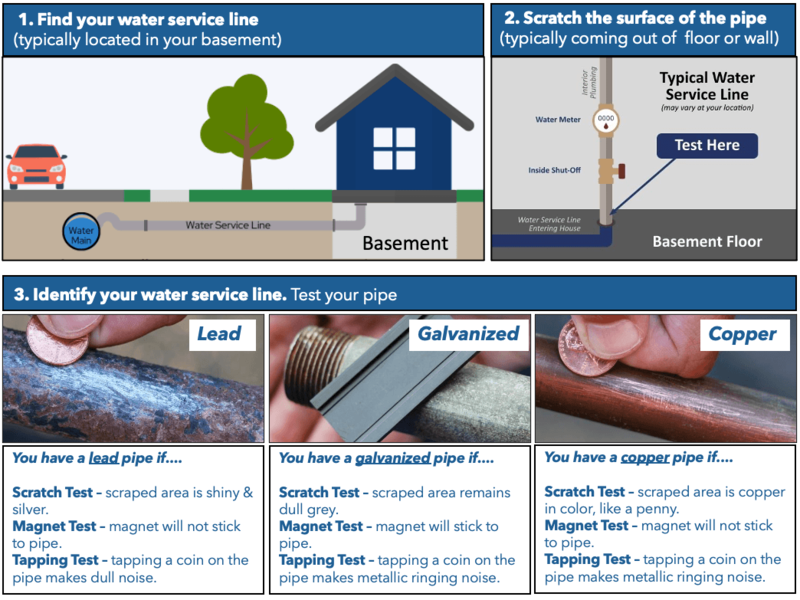 How could lead impact my health?
If you have questions regarding your health, contact your healthcare provider or Your Local Health Department at 269-273-2161 Option 9.
Additional information on Blood Lead Level Testing by our agency is located here.