BHSJ CHA's Breastfeeding Peer Recognized as "Peer of the Year"
Tuesday October 31, 2023
Amey Elkins-Little recently recognized by the Michigan WIC Program with a "Peer of the Year" award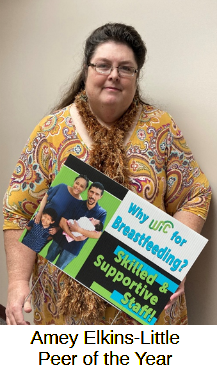 Amey Elkins-Little, Breastfeeding Peer Counselor of the Branch Hillsdale St. Joseph Community Health Agency's Women, Infants, and Children (WIC) Program, was recently recognized by the Michigan WIC Program with a "Peer of the Year" award for the Southwest Region.
Mrs. Little has been a Breastfeeding Peer Counselor with BHSJ CHA's WIC program for five years. She has been involved with promoting breastfeeding support in the community, not only through the WIC program, but through relationships with community partners and support groups. "Amey is dedicated to making things better for her clients and fellow peer counselors," says Dionne Moore-Smith, State WIC Breastfeeding Peer Counselor Coordinator. "She is always thinking of ways to improve the client experience and breastfeeding outcomes."
"Our agency is proud of Mrs. Little's contributions to the WIC Breastfeeding Peer Counselor program and to the health and welfare of moms and babies," says Rebecca Burns, Health Officer. "Our program has benefited from Amey's personal experience and her passion for helping moms and babies benefit from the breastfeeding experience."
The Breastfeeding Peer Counselor program is available to any pregnant person considering breastfeeding, new moms who have questions or need support, and experienced moms who may have needs. We also offer an after-hours "warm-line" which moms and their partners can text or call for questions or support. Contact Your Local Health Department office to connect with the WIC program and the Breastfeeding Peers.