BHSJ CHA and My Community Dental Center Mark Anniversary
Thursday October 19, 2023
BHSJ and MCDC celebrate the one-year anniversary of the MCDC-Hillsdale Clinic re-opening
In the past year, the center has served 4,000 patients, improving community access to dental care services that were lost when the center closed in April 2021. Through partnership with the Hillsdale County Community Foundation, Hillsdale Hospital, Hillsdale County Human Services Network, BHSJ CHA and MCDC, financial support was provided to establish an incentive package to attract a dentist, which allowed the center to re-open.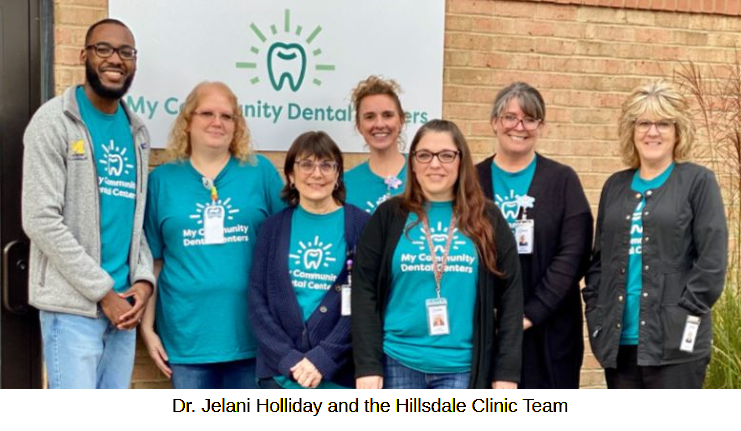 Dr. Jelani Holliday serves as the clinic's dentist and has personal experience with growing up in an underserved area. "My experiences, coupled with my time here at MCDC, have made me a passionate advocate for practicing dentistry in underserved areas," said Holliday. "Growing up in rural Georgia, I witnessed dental buses providing vital care to my community, including myself, I saw similar access issues in Michigan which motivated me to address these disparities. It's my mission to make a difference, within communities such as the one I grew up in and I am fueled by my unwavering faith in helping people. I am so honored to be here in Hillsdale and celebrating this milestone with my team."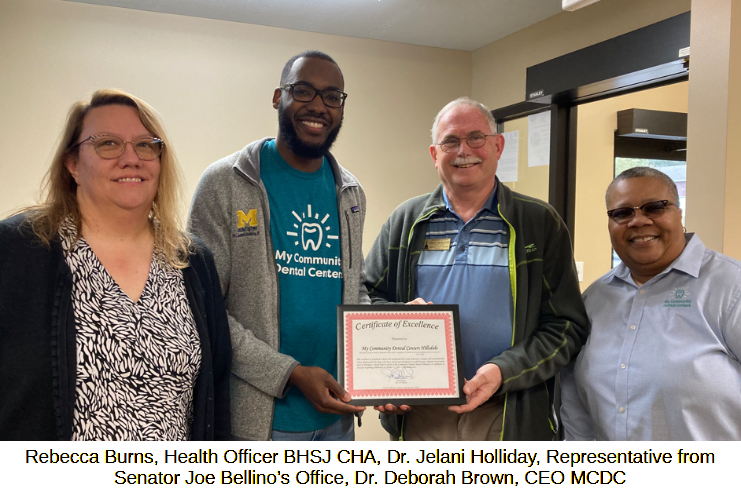 For more than a decade, MCDC has worked in collaboration with Branch-Hillsdale-St. Joseph Community Health Agency to bring access to dental care to those within Hillsdale County. "Dental health is an important part of an individual's overall health. As an agency, we are committed to finding ways to improve access to care within our communities," says Rebecca Burns, Health Officer. "Dr. Holliday and the team at MCDC's Hillsdale Clinic are committed to ensuring quality dental treatment for this community. We are pleased with the support and leadership of our partners in attracting talented dental professionals. It is wonderful to participate in the celebration of this milestone.
The Branch-Hillsdale-St. Joseph Community Health Agency is committed to promoting wellness, preventing disease, providing health care, and protecting the environment.