SCHeduling of vaccinations now available
We have been able to implement a scheduling system to allow individuals to schedule their appointments.
VACCINE STATUS IN BRANCH-HILLSDALE-ST JOSEPH COUNTIES
Download the up-to-date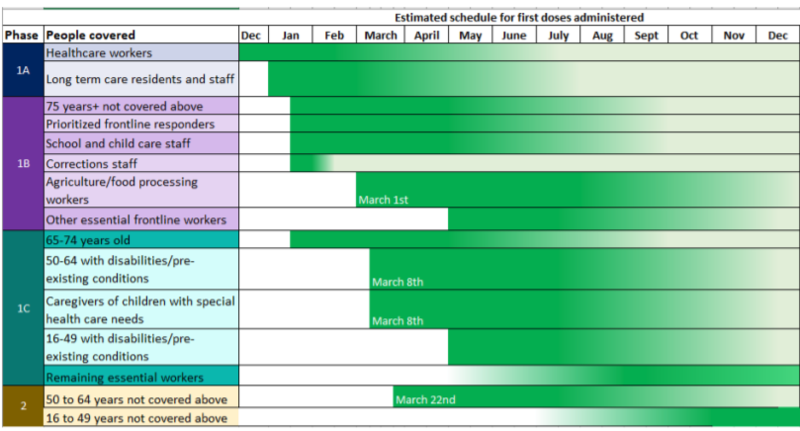 1/11/2021 Vaccine Update
Branch-Hillsdale-St. Joseph Community Health Agency (BHSJCHA) was notified that it will be receiving 975 doses of Pfizer vaccine this week. Due to a new collaboration with the Kalamazoo County Health Department that has an ultra-cold freezer to store Pfizer vaccine, we are now able to receive and administer the Pfizer vaccine. Because we are receiving this additional vaccine for the tri-county area we have scheduled clinics for PreK -12 grade educational staff and remaining individuals in category 1A. We do not expect that there are enough doses of vaccine to vaccinate every PreK-12 grade educational staff member. As more vaccine is available in the tri-county area to the local health department and the local hospitals, more opportunities for category 1B individuals to get vaccinated will be publicized. Everyone in category 1B is important to us, please keep checking this site for announcements on additional vaccine clinics.
BHSJCHA is partnering with local hospital systems to deliver the COVID-19 vaccine in the tri-county area.
HOW WILL IT BE DISTRIBUTED?
The Advisory Committee on Immunization Practices (ACIP) makes recommendations for who should receive vaccines, and in this case, who should receive the COVID-19 vaccine first. States have the option to tailor their vaccine priorities for their state.
Michigan has released prioritization guidance in accordance with the ACIP recommendations (last updated 12/23/20):
1. Phase 1A includes paid and unpaid persons serving in health care settings who have direct or indirect exposure to patients or infectious materials and are unable to work from home, as well as residents and workers in long-term care facilities.
1A Priority One: Keep critical health care infrastructure open and functioning (i.e., hospitals, critical care units, and emergency medical response systems) through vaccination of staff who perform direct patient care and work in critical areas including:

Group A: Emergency medical service providers, including medical first responders
Group B: General medical floor
Group C: Emergency department
Group D: Intensive care units

1A Priority Two: Prevent outbreaks and protect residents in long-term care facilities.

Group A: Vaccinate workers who have direct contact with large number of vulnerable residents. Note this would include staff who come in and out of the buildings. This could include:

Skilled nursing facility staff; Psychiatric hospital staff ; Homes for aged staff; Adult foster care centers staff; Assisted living facility staff; Home health care workers caring for high risk clients with large patient loads (e.g. people with a tracheostomy/ventilator at home)

Group B: Vaccinate vulnerable residents in long-term care facilities that could include: skilled nursing facility residents; Psychiatric hospital patients; Homes for aged residents; Adult foster care centers residents; Assisted living facility residents

1A Priority Three: Keep necessary health care infrastructure functioning.

Group A: Vaccinate workers with direct patient contact who conduct high risk procedures (e.g.,
dentists, endoscopy, dialysis).
Group B: Vaccinate other workers who have direct patient contact, including outpatient, urgent
care, ambulatory care, and home health care.
Group C: Vaccinate workers who have indirect patient contact with specialized skills critical to
health care system functioning (e.g. hospital and public health laboratories, pharmacy).
2. Phase 1B includes persons 75 years of age or older and frontline essential workers in critical infrastructure:
Group A: Persons 75 years of age or older not covered in Phase 1A. This includes those in a congregate setting that were not reached in Phase 1A.
Group B: Frontline essential workers in sectors essential to the functioning of society and at substantially higher risk of exposure to SARS-CoV-2 because their work related duties must be performed on site and involve being in close proximity (i.e., within 6 feet) to the public or to coworkers. Includes Pre Kindergarten through High School teachers, support staff and child care workers who usually have direct contact with children
Group C: Frontline essential workers in criitcal infrastructure
• First responders not covered in Phase 1A (e.g., firefighters, police)
• Food and agriculture workers
• Critical manufacturing workers
• Corrections workers (ex. prisons, jails, juvenile justice facilities)
• U.S. Postal Service workers
• Public transit workers
• Grocery store workers
• Workers in homeless shelters, congregate child care institutions, and adult and child protective services
• Workers with unique skill sets not covered above, such as non-hospital laboratories and mortuary services
3. Phase 1C includes individuals age 16 years or older at high risk of severe illness due to COVID-19 infection and some other essential workers whose position impacts life, safety and protection during the COVID-19 response.
Group A: Individuals ages 65-74 years and older; this includes those in a congregate setting that were not reached in prior Phases.
Group B: Individuals 16-64 years with COPD, hypertension, chronic kidney disease, heart disease, diabetes, obesity or other conditions that puts them at high risk of negative COVID-19 outcome.
Some other essential workers whose work must be performed on site, not covered in prior Phases, will also likely be vaccinated during this phase. It is expected that MDHHS will adapt this guidance as vaccine availability becomes clearer.
4. Phase 2 is a mass vaccination campaign for all individuals who did not otherwise fit into the earlier groups for whom the vaccine is recommended.
WHAT DOES THIS MEAN FOR ME?
Initial vaccine supplies are expected to be small, but will consistently be shipped to our community. The first priorities include health care workers providing direct care, people who will be vaccinating others, and residents in long-term care settings.
Please be patient. It will take weeks or months to move through each of the phases of the distribution plan. We are working quickly to provide more detailed information as it becomes available.