World Elder Abuse Awareness Day
Saturday June 15, 2019
Local efforts to raise awareness about elder abuse, neglect and exploitation in our communities
Area Agency on Aging 3C commits to justice on this World Elder Abuse Awareness Day, June 15th, 2019. Statistics state that 1 in 10 adults (60 years and older) have experienced some form of abuse. Abuse is the mistreatment or harming of an individual and it may include physical, emotional, or sexual abuse, along with neglect and financial exploitation. And, even more alarming, this statistic only represents the cases that are reported. Elder abuse is prevalent and very real, and the time to act is now.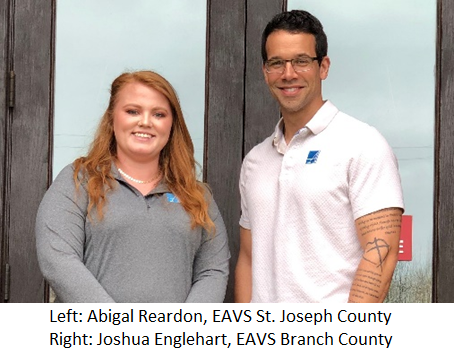 The Area Agency on Aging 3C, serving Branch and St. Joseph Counties, recently launched the Services to Victims of Elder Abuse Program (SVEA) to address abuse, neglect and exploitation in our community. This innovative program has been established through grant funding provided by the Michigan Department of Health and Human Services and the Victims of Crime Act. Victims of elder and dependent adult abuse, neglect, and/or exploitation can be directly served by local "Elder Abuse Victim Specialists" (EAVS) who've been highly trained and are sensitive to each situation. Victim Specialists can provide services such as person-centered support, relocation assistance, transportation, personal/criminal advocacy and much more. As recently shared by a victim served by the program: "Without the support of my Elder Abuse Victim Specialist, I don't know where I would've been after my attack."
The Services to Victims of Elder Abuse Program has been developed through collaborative efforts emphasizing community outreach and education. Our team is working with key community partners including: local law enforcement agencies, first responders, local court systems, adult protective services, sexual assault organizations, community mental health agencies, and many others to develop strategies surrounding identifying, reporting and combatting elder and dependent adult abuse.
If you wish to report suspected abuse, neglect, or exploitation, contact Michigan's Centralized Intake toll free anytime day or night at (855) 444-3911.
If you are interested in becoming more involved in local prevention efforts or have questions about the SVEA program, please contact our office and speak with an Elder Abuse Victim Specialist by calling (517) 278-2538 or toll free (888) 615-8009.